An Evening Conference on Feminism and Equality At Large at the Fantabulosa Esoteric Cabaret Dada
 
Lauren is working with Untitled Theatre Collective, of which she is a founding member, as the Executive Director on "DADA" for the FRIGID New York Festival this February 2017.
FRIGID New York presents
An Untitled Theatre Collective production:
An Evening Conference on Feminism and Equality at Large at the Fantabulosa Esoteric Cabaret Dada
Written
&
Directed
by
Lucca Damilano
At the Cabaret Voltaire – the Swiss nightclub home of the Dadaists - five important artists of the movement take the stage after being overlooked for so long: its female innovators. Deconstructing theatrical and literary conventions - meaning, syntax, and creation of language as well as the form and content of Dadaism, these fantastic artists explore what it is to be a female in society.
The Female Innovators (Cast)
Female 1: Alexa Welch
Female 2: Belinda Adam
Female 3: Talia Moreta
Female 4: Lorraine Tai
Female 5: Sarah Gwynne Walker

Production and Design Team
Stage Management by Darielle Shandler
Costume & Sound Design by Allyson Steele
Choreography by Talia Moreta & Belinda Adam
Text, Direction & Production Design by Lucca Damilano
Reviews:
"The show invokes the need to unlink form and content, to stop clinging to old forms, and to interrogate what we think is art, and even what we think we know....If a commitment to illogic and a willingness to, as Damilano suggests, "sit back, relax, and let the work wash over you and surround you," consider attending this Conference." -Leah Richards, Culture Catch
For more information and to purchase tickets, visit www.untitledtheatrecollective.org
Hamlet
Lauren is currently the Producing Manager for Nu•ance Theatre Company production of "Hamlet" by William Shakespeare
Produced by Nu•ance Theatre Company
Written by William Shakespeare
Directed by John Desotelle
Assistant Director Judith Feingold
Stage Managed by Mel Ryan
Assistant Stage Manager Allison Newcombe
Producing Manager Lauren Fischetti
The Cast:
Albert Baker, Charles Montgomery, Ethan Russell, Jack Wink, Joe Lalumia, John Rearrick, Julia Boyes, Jurgen Jones, Justin Blake Broido, Michael Bryan, Michael Fox, Mickey Pantano and Sean Richards
The Design Team
Costume Designer Sarah Marie Dixey
Set Designer Matthew Imhoff
Sound Designer Megan Culley
Lighting Designer Zach Weeks
Magic Consultants Patrick Terry & Nelson Lugo
 
In the style of Nu•ance Theatre Company – Hamlet remains true to the era and prose of Shakespeare's work, yet offers the unexpected element of real illusions and ghostly apparitions that will heighten and illuminate this haunting story. Returning to the immersive staging previously employed in the union halls of Odets', "Waiting for Lefty" or the fully built tenement apartment in "Awake and Sing!", Nu•ance once again delivers a fresh and ambitious theatrical experience with audience members as the royal courtiers woven within and around Elsinore Castle, witnessing the tragic deeds unfold.
For more information, visit www.NuanceTheater.com
Reviews:
"Steeped in the Meisner technique, the cast, under the direction of John DeSotelle, react to one another with vitality and, when they lock eyes on the audience doing their soliloquies, they bring an immediacy to the centuries old verse, especially in the chapel scene when Claudius kneels to pray and Hamlet nearly strikes." - PJ Grisar, StageBuddy
"I would encourage you to see the show, and see how well the challenge of bringing this incredible story to life is met." - Mike Pirozzi, Outerstage
 
BACHELORETTE
Lauren just finished a run of Leslye Headland's "Bachelorette" at The Walker Space in TriBeCa. Lauren was a part of Untitled Theatre Collective and held the Front of House and Box Office Manager position.
Produced by Carly J. Bauer Productions and Mark Brystowski
In Association With Untitled Theatre Collective
Written by Leslye Headland
Directed by Hannah T. Wolff
Stage Managed and Assisted Lighting Designed by Darielle Shandler
Casting by Dustin Norris
The Cast
Scott Friend
James Hesse
Kelsey Moore
Emily Ota
Erika Santosuosso*
Darcy Wright*
The Design Team and Crew
Scenic and Lighting Designer Lucca Damilano
Costume and Sound Designer Allyson Steele
Graphic Designer Billy Scharnikow
Assistant Stage Manager Caroline Cromwell
Press Representative DDPR, Daniel DeMello
Social Media and Marketing Manager Alexa Welch
House and Box Office Manager Lauren Fischetti
Website Designer Nouveau Branding

*Appearing courtesy of Actors' Equity Association

When three narcissistic mean girls, Gena, Katie & Regan, descend upon a former friend's wedding night, it is primetime for misbehaving. Leslye Headland's Bachelorette explores the incredulous inner and outer lives of three over-medicated, toxic women seeking validation by any means. In the early morning hours of Becky's wedding day friendships will be tested, lines will be cut, messes will be made, & no one makes it out unscathed.
This powerful piece of theatre begs the question, are the self-destructive worth saving?
Bachelorette was produced by Second Stage Theatre, New York 2010, Carole Rothman, Artistic Director & the World Premiere Production was presented by Iama Theatre, January 2008
Bachelorette performed at The Walker Space from September 8th to September 17th, 2016
Reviews:
"A first-rate new revival" that is "unafraid to explore the darkness in Bachelorette, discovering even more of it than what was thought possible." - TheaterMania
"Wolff has the ability to amp the comedic scenes thanks to her ensemble's naturalistic work, but it's quieter moments where the play truly haunts." - StageBuddy
"As caustic and outrageous as ever." - TheaterScene.net
For more information, visit www.bacheloretteplay.com
TAILSPIN!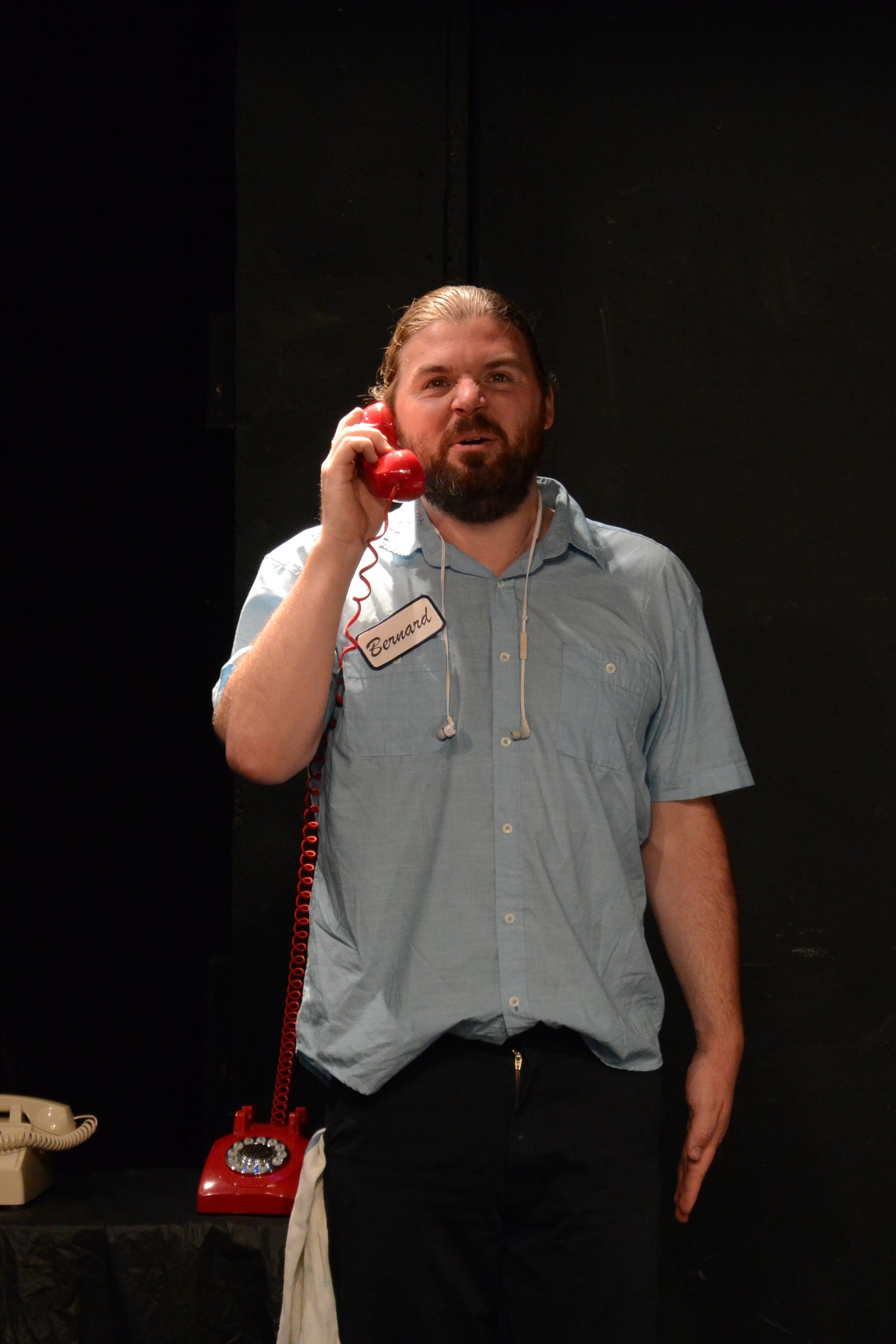 Lauren is the Executive Producer for Tailspin! which will be presented by The New York International Fringe Festival in association with The Present Company this August 2016!
Produced by Lauren Fischetti
Written by Zach Stephens
Directed by Kelly Webb
Recently seen at the Venus/Adonis Theater Festival 2016
The red emergency phone is ringing. On one end? Lowly assistants at Babylon Pictures, a major Hollywood movie studio, left alone to handle some fresh and rapidly escalating damage control. On the other? North Korea's supreme leader, furious with his depiction in Babylon's latest film, "The Girlish Tendencies of Kim Jong-un". Besieged from all sides, they must contend with a spiraling predicament catapulting them further into a frenzied distortion of modern American culture and the creative process. Throwing shade may be their only way out.
The Cast:
Henry: Zach Stephens
Mia: Kelsey Lea Jones
Olivia: Elizabeth Zephryine Mcdonough
Bernard: Dick Ward
Samm Hamm: Will Cary
Duran Duran: Julianne Cross
Isaac: Jacob Presson
Design Team:
Social Media Manager Amanda Barlow
Sound Designer Gus Belfiglio
Dramaturg Amelia Cain
Costume Designer Emily Abma
Assistant Stage Manager/Props Master Anna Hogan
Assistant Producer Victoria Weinberg*
* denotes a member of Actors Equity Association
Tailspin! performed at The New York International Fringe Festival - FringeNYC from August 12th to August 27th, 2016, at The Kraine Theatre

Reviews:
"laugh-inducing"
"[Tailspin!] offers plenty of comedic insight into our entertainment-centric lives."
"Each of the actors (guided by director Kelly Webb) shows a knack for physical humor and for delivering their lines with the full comedic potency intended by playwright Zach Stephens." - Adrienne Urbanski, Theatre Is Easy

"funny and energetic"
"The stamina is undeniable."
"Stephens and Jones were [a] strong due. They bounced off one another with ease."
"...this was a strong outing to present the animated comedic talents of Zach Stephens." - Michael Block, Theater In The Now
 
For more information, visit our social media sites:
Twitter : @TailspinThePlay ; Instagram : @TailspinThePlay ; Facebook : /tailspintheplay
HELVETICA
Assistant Producer I Rising Sun Performance Company
A Rising Sun Performance Company Production Presented at the Planet Connections Theatre Festivity at the Paradise Factory on June 19th, 2016
By Will Coleman
Director Brock Harris Hill
Assistant Director Anna Hogan
Producers: Akia Squitieri and Lauren Fischetti

The Cast: Ashleigh Herndon, Betsy Feldman, Christopher Sanchez, Dante Jayce, David Berman, Destiny Shegstad, Elizabeth Pegg, Eric Parness, Julia Torres and Sven Haabeth

Technical Director/Lighting Designer Jak Prince
Sound Designer Tom King
Costume Designer Emily Abma
Helvetica Burke: adventurer, writer, and cynic, has spent her life packaging Death neatly between the lines of her beloved children's books, with her trusty stuffed bear Myron by her side. When she encounters Death head-on however, she finds the storybook truths within the realities of her past, present, and future. A play about stories.
Reviews:
"This production is funny, often darkly so, and strikes a bittersweet balance between melancholia and optimism, through which it accumulates an emotional power that comes to a head at one late point when Past, Present, and Future Helvetica share the stage." - Leah Richards, Culture Catch
"This was such a charming, moving, hilarious surprise and so well acted and directed by all concerned. While the play may deal with such heavy subjects like life and death, loneliness, finding happiness, it is done in such a lighthearted manner that you can relate to that you will leave the theater smiling with a tear in your eye at witnessing such a delightful and engaging play. " - Hi! Drama
For more information, visit www.risingsunnyc.com
THEATER RESOURCES UNLIMITED 2016 AUDITION EVENT
Co-Producer & Actor Coordinator I Theater Resources Unlimited
TRU was formed to promote a spirit of cooperation and support within the general theater community by providing information and a variety of entertainment-related services and resources that strengthen the capacity of producing organizations, individuals producers, self-producing artists and other theater professionals. TRU's 2016 Audition Event provides opportunity for theater professionals to be seen by over 60 theater companies, agents, and casting directors combined. TRU's 2016 Audition Event runs over the course of two days and serves over 200 actors with the chance to be seen in front of the theater industry.
Executive Director, President, Co-Founder Bob Ost
Co-Founder, Ex-Officio Gary Hughes
Staff Administrator Scott Kipnis
Co-Producer & Actor Coordinator Lauren Fischetti
Co-Producer & Auditor/Volunteer Coordinator Carly J. Bauer
Co-Producer & Sponsor/Logistics Coordinator Jesse B. Langston
Reviews:
"Thank you to the entire TRU staff for an amazing event." - Emilie B, Actor
"We would like to extend a huge Thank You to all the event staff. Everyone was super warm, friendly and welcoming. Every step was explained in great detail and was perfectly coordinated and executed. My daughter and the other participants in her group (all children), were unbelievably well prepped and supported every step of the way. Thank you so much for making this audition event fun and stress-free for all the participants!!!....[My daughter] had such a fun time, she can't wait to come back next year!" - Ann N., Parent of an Actor
SPRUCEHAVEN B
Assistant Producer I Rising Sun Performance Company
The award-winning, critically acclaimed Rising Sun Performance Company returns to FRIGID in 2016 with a tale of heartbreak, madness, and horror. Isabel's world is forever altered over the course of two nights separated by decades in a desolate Maine cabin. If only she could hear three little words…
Premiered at the FRIGID New York Festival at the Kraine Theater on February 17th, 2016
By Mark Cornell
Director Akia
Stage Manager Laura Krouch*
Associate Director/Dramaturg Maggie Kissinger

The Cast:
Isabel: Elizabeth Burke
Tommy: Tucker Bryan
John: Richie Abanes*
Young Isabel: Samantha Turret
Snodgrass: Ari Veach

Fight Director Monica Blaze Leavitt
Assistant Producer Lauren Fischetti
Technical Director/Lighting Designer: Jak Prince
Sound Designer Tom King
Associate Set Designer Ian Potter
Costume Designer Emily Abma
Assistant Stage Manager Hadley Torodon

*denotes member of Actors Equity Association
This is an Equity Showcase Production
Reviews:
"unquestionably a must-see"
"the play establishes its intensity almost immediately and never lets up"
"The cast is excellent." - Leah Richards, Culture Catch
"Elizabeth Burke and Samantha Turret play the troubled Isabel at two different ages with equally acute skill and passion"
"a chilling exploration of the corruptibility of the human spirit"
"It's not a pretty sight, but you don't want to look away. Turret is mesmerizing." - Jon Sobel, Blogcritics
FIRE ON FLAMING ROADS
General Manager & Producer I Untitled Theater Collective
Fire on Flaming Roads is the darkly comedic story of four friends searching for answers, both real and philosophical, as a mysterious fire burns across the horizon. As the drugs and booze take hold, and as strange events begin to occur, tensions rise as the friends realize that tomorrow may not come as soon as they'd hoped. This post-modern apocalyptic one-act is a Waiting for Godot for the Brett Easton Ellis generation and examines the apathy and disillusion of young people today.
Premiered on December 10, 2015 at the Arthur Seelen Theatre, New York, New York
Text & Direction by Daniel Hainsworth
Scenic, Projection & Lighting Design by Lucca Damilano
Costume & Sound Design by Allyson Steele
General Manager & Producer Lauren Fischetti
Cast: Jake - Matt Giroveanu, Dylan - Shawn Verrier, Sam - Kyle C. Mumford, Mary Caitlin Kelly
Produced by Untitled Theatre Collective & CJB Productions